Have you ever seen the Milky Way? It's the galaxy that our planet and solar system live in. It has to be a fairly dark sky for you to see it, and even then you might have to stay outside for a few minutes till your eyes adjust.
This is the Milky Way as seen from Ontario, Canada. It looks like a massive line of stars, not like the beautiful spirals that we were always taught about growing up!
That is because we are located in one of the spirals arms of the Galaxy, meaning that we can't see the structure that we would imagine. It's kind of not being able to see the lovely view of a mountain, just because you are standing on top of it. But this is what we imagine the Milky Way looks like!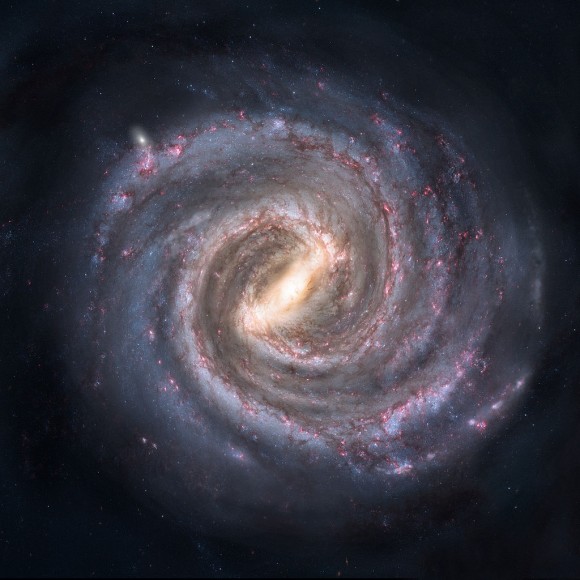 Our Solar system is situated in one of the arms of this galaxy. But our star is one of only
billions
of stars in the Milky Way. Let's let that sink in for a little minute,
billions.
And that is only our galaxy, we have already observed billions of other galaxies in the Universe. So yeah, sometimes it feels like we are only a drop in the ocean, but think about the previous post on us all being
made of star stuff
. I always find it kind of amazing to think about this big universe that we are part off!
But back to our own Galaxy for now, so there is billions of stars in the Milky Way. That makes it really heavy, and when something becomes really heavy it has a lot of gravity. In the way Earth orbits the Sun, the Sun orbits the centre of the Galaxy (where we think there may be a black hole, save this for another post). But our Galaxy also orbits other Galaxies, well they all orbit each other.
Our Galaxy is part of a big cluster of Galaxies called the Virgo Supercluster.
Tomorrow I'll talk about our Galaxy's little brothers; the Large and Small Magellanic clouds. But I thought I'd just do a little post about our Galaxy today.
Have you ever seen the Milky Way?